Do you want to know a beach that is ideal for children and your family? Mutá beach is perfect.
Enjoy calm moments in this divine beach, consider to be one of the greatest beaches in Porto Seguro.
What about considering this paradise as your next travel destination?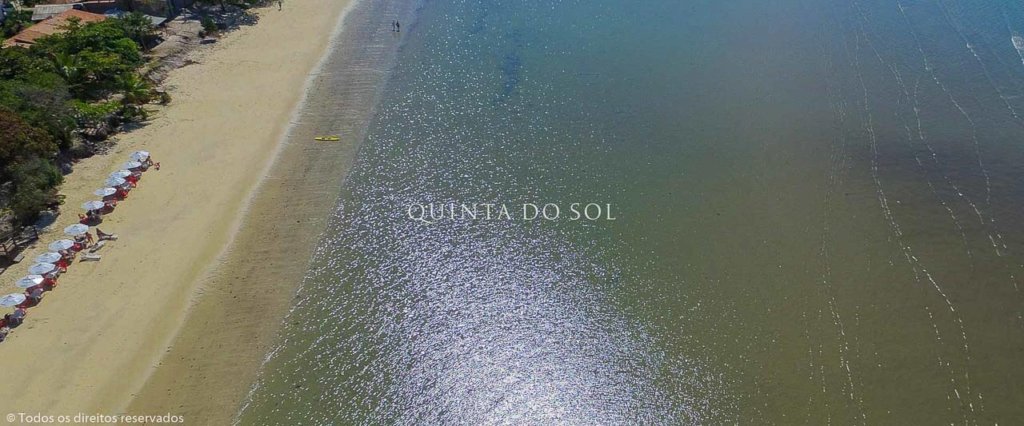 Known for its crystal clear, warm and calm waters, the sea in Mutá Beach, Porto Seguro, is also shallow and does not have strong waves, making it perfect for children to have a lot of fun and in safety. This beach is located far from all the noise places and from nightlife attractions. You will never see Mutá crowded – only few people visit the beach.
Besides that, Mutá beach is good for a sea bath, since it is considered a small cove – coral reefs form natural pools, making possible to walk into the ocean with water level around your waist. All of it will make your trip to this paradise unforgettable.
The stunning landscapes and rewarding nature on a truly paradisiacal beach, this is ideal for you to spend a wonderful time with your kids, and it is excellent for visiting any time of the year.
In Mutá beach you will find many touristic attractions:
Excellent location, close to the best beaches in Porto Seguro;
Calm beach and a selected public, allowing safe fun;
Calm waters and with weak waves, ideal for families and small children;
Exuberant nature in a nature paradise;
Direct contact with marine life;
Small cove with coral reefs, creating natural pools;
A good infrastructure of bars and tends, with good quality and good prices.
Are you read to board in this unforgettable trip with your family? This is the perfect destination, no doubt about it!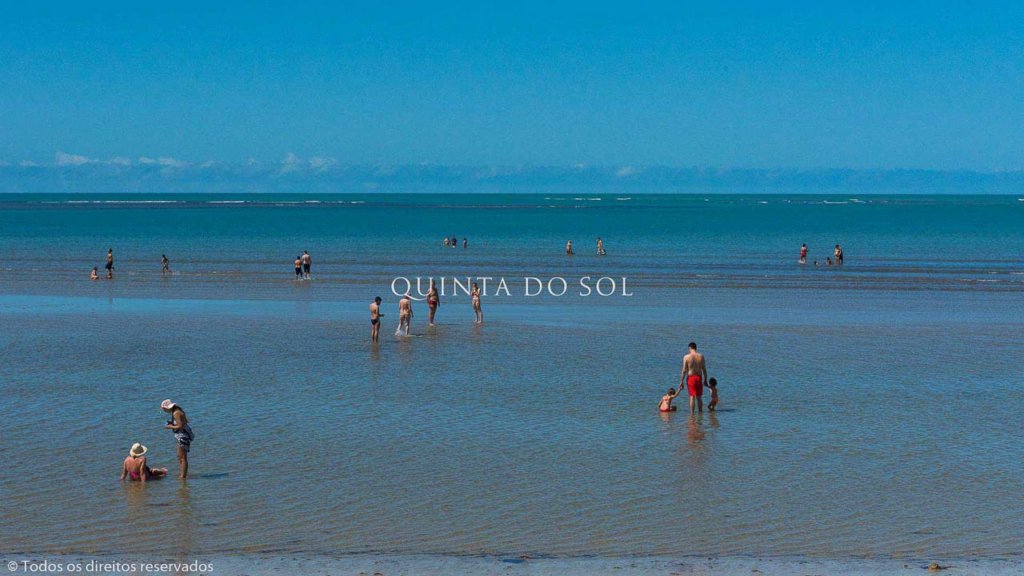 What to do in Mutá beach?
Mutá beach is perfect for resting and relaxing, and you can play with your children in its clear waters, enjoying a must-see and enchanting sensation of being in paradise.
It is possible to see the seabed and marine turtles during spawning period.
The beach allows the perfect connection with nature and for you to renew your energies.
Definitely, this beach is charming all over the year.
There it is also a stop point for small boat, making possible to take a lot of great pictures.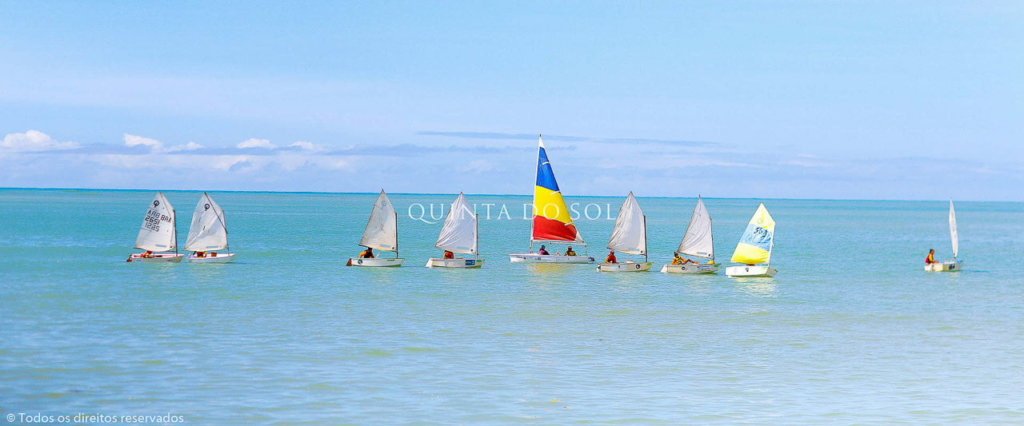 During summer, Mutá beach offers ultralight tours to admire the view and the paradisiacal beach and blue ocean from the sky.
Many tourists enjoy jogging and walking in the flat and light colour sands.
Meanwhile, children can the entertained looking for sea shells.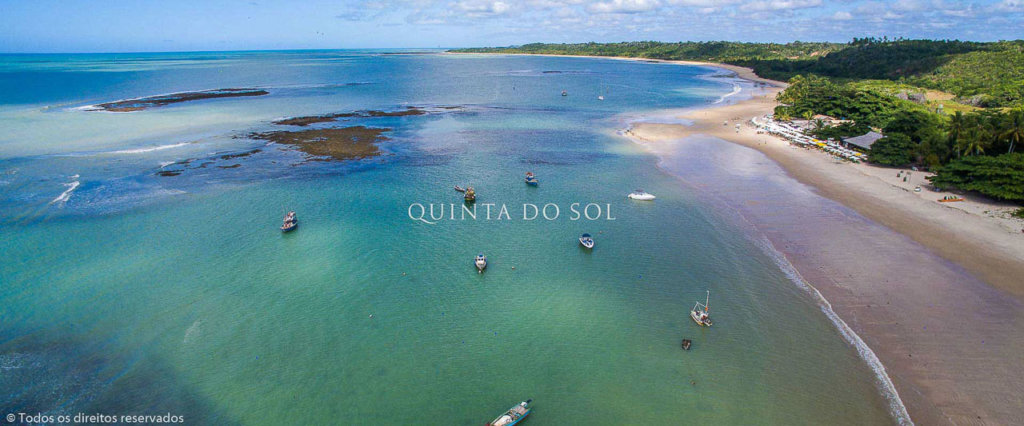 Infrastructure and gastronomy
You already know that Mutá beach if good for sea bath. But, what about the infrastructure for the tourists?
We have good news for you: tends offers a perfectly comfortable infrastructure for the family.
You will find places that offers showers, chairs, sun loungers, sunshades and high-quality food, and the best: for an affordable.
What about having a beer in front of the sea?
Bars and tends of Mutá beach in Porto Seguro have excellent options!
Relax enjoying the view of the coconut and ornamental trees that make up the landscape, combined with crystal clear ocean waters.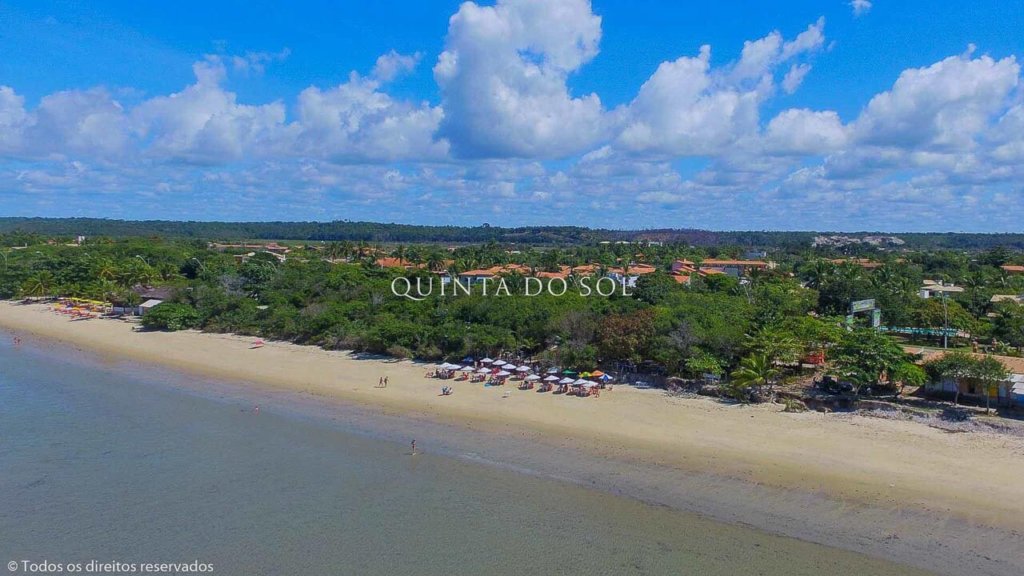 The local offers a good variety of stores such as marketplaces, handcraft fairs and even indian handcrafts – and everything with an easy access!
Surroundings of Mutá beach
The surroundings of Mutá beach is a big list of the best beaches in Porto Seguro, such as the well-known Curuípe Beach, and, besides, it also holds the various tours in Porto Seguro.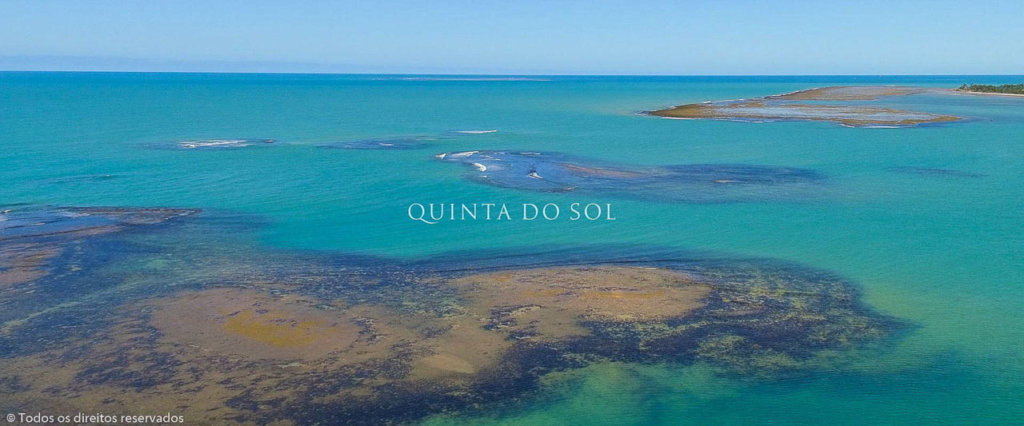 Mutá beach is close to Coroa Vermelha Beach about 16 km from the city centre of Porto Seguro, and Ponta Grande Beach, 11 km from the city centre.
At the same time, you can spend some time at Tuperapuan beach, a beach with more beach and more agitation. One of the most crowded beaches, especially during high season.
It worth to get to know these beaches and have some fun with the tours in Porto Seguro.
If you like cultural tours, you can also find some options in Porto Seguro.
The Red Cross Crown, Indian Museum and Memorial of Brazilian Discovery have important collections dating from the arrival of Portuguese in Brazil, with an unmeasurable historical value.
How to arrive in Mutá Beach?
Mutá beach in Porto Seguro is in the north side of the city, close to Santa Cruz Cabrália.
The calm beach is the perfect invitation for relaxing combining good vibrations, with safety and stunning nature, a real natural paradise.
The excellent location makes easy to enjoy all these wonder around the city.
This is the perfect destination to spend some real good quality time with whom you love!
To conclude
There is a lot to do in Ponto Seguro, where the best Brazilian's beaches can be found.
It is also where Mutá Beach is located, and will receive you family with open arms, as all other beaches in Bahia will do.
Bring your family to spend some amazing moments and to be enchanted by the natural beauties.
Especially because this is one of the best and most calm beaches in Porto Seguro.
In conclusion, Mutá beach in Porto Seguro is a real paradise, where tide goes up slowly, no scares to tourists and ideal for children.
Its location allows you to feel the wind blowing up the heat away.
Tends offering sunshades, and incredible tasteful sea fruits and coconut water.
Enjoy unique moments and a unique infrastructure. After all, you and your family deserve it.
Quinta do Sol Hotels are located close to Mutá Beach in Porto Seguro, so you can enjoy an excellent infrastructure with your family.
So, this is an amazing opportunity to be in a be hosted in a place with unique sea view.
Quinta do Sol Hotel has a big recreation area with pool, many different activities, bars and restaurants.
Make things even easier, it will be only 4 km from Porto Seguro Airport.
Did you like the tips for visiting Mutá Beach with your family? What are you going to enjoy? Tell us in the comments and have a nice trip!