Pitinga beach is one of the most beautiful postcards from Arraial d'Ajuda and it is present in most wish lists of anyone who comes to Bahia.
No doubt, in case you're planning to come to Porto Seguro, be sure to meet this wonderful place in the state of Bahia.
Do you want to know everything about Pitinga beach? Check it out!
Meet Pitinga beach!
Pitinga beach is located near the city center of Arraial d'Ajuda and it has beautiful landscapes, cozy accommodations and a perfect combination of sun and beach that you could only find in Bahia.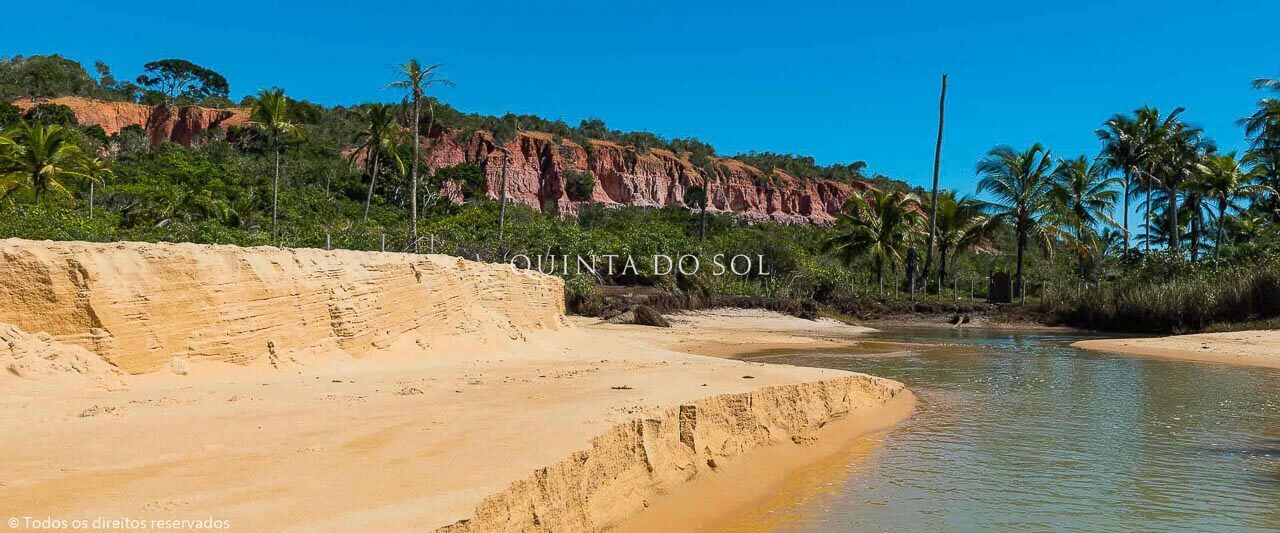 Easy come, hard go!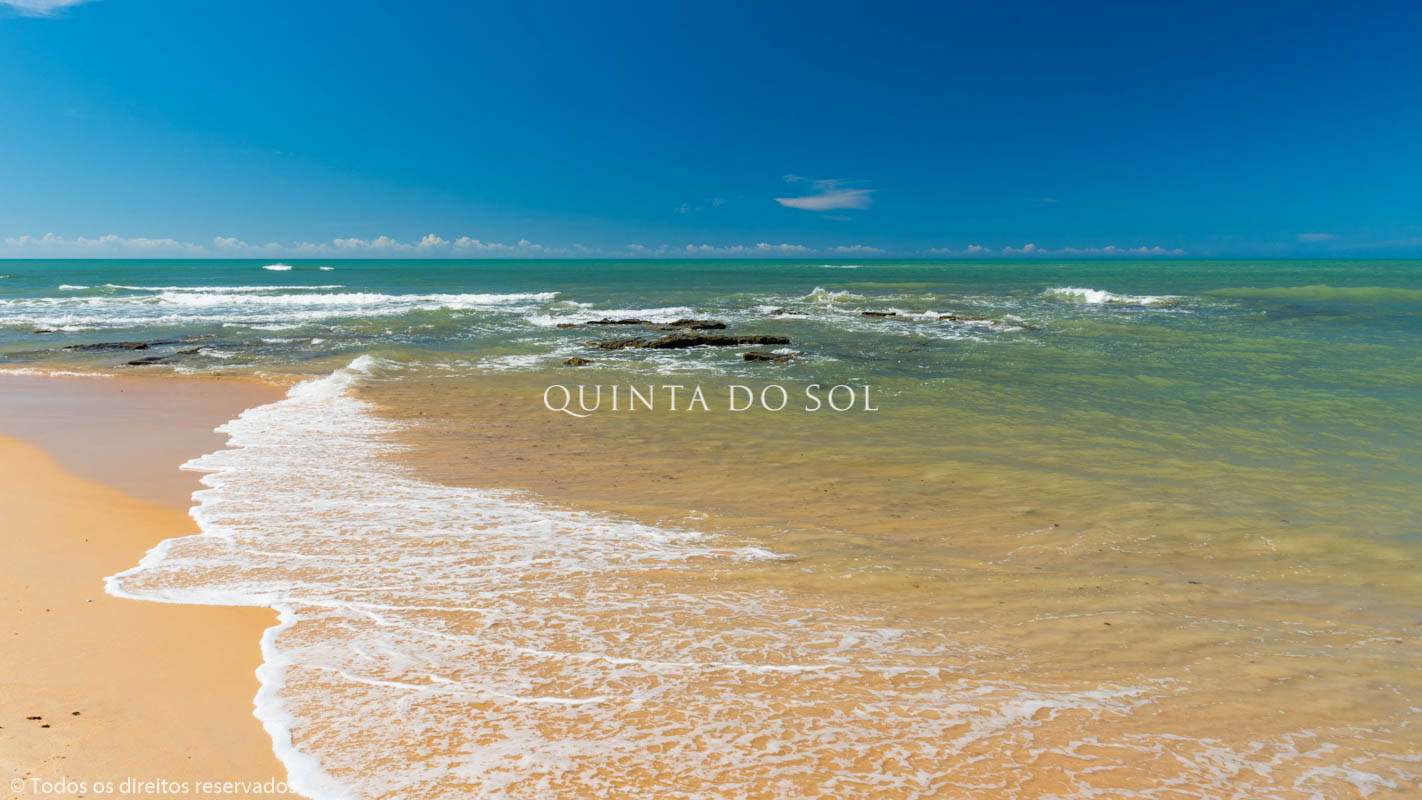 Enjoy refreshing days in this tropical paradise.
Besides that, meet the cliffs, take a look at the beauty of the place and explore the trails from above!
In order to inform you on how to proceed when in Pitinga beach, follow this post with a lot of tips and informations.
Program your vacations taking this beach into consideration. Your trip is going to be even more remarkable.
How to get to Pitinga beach?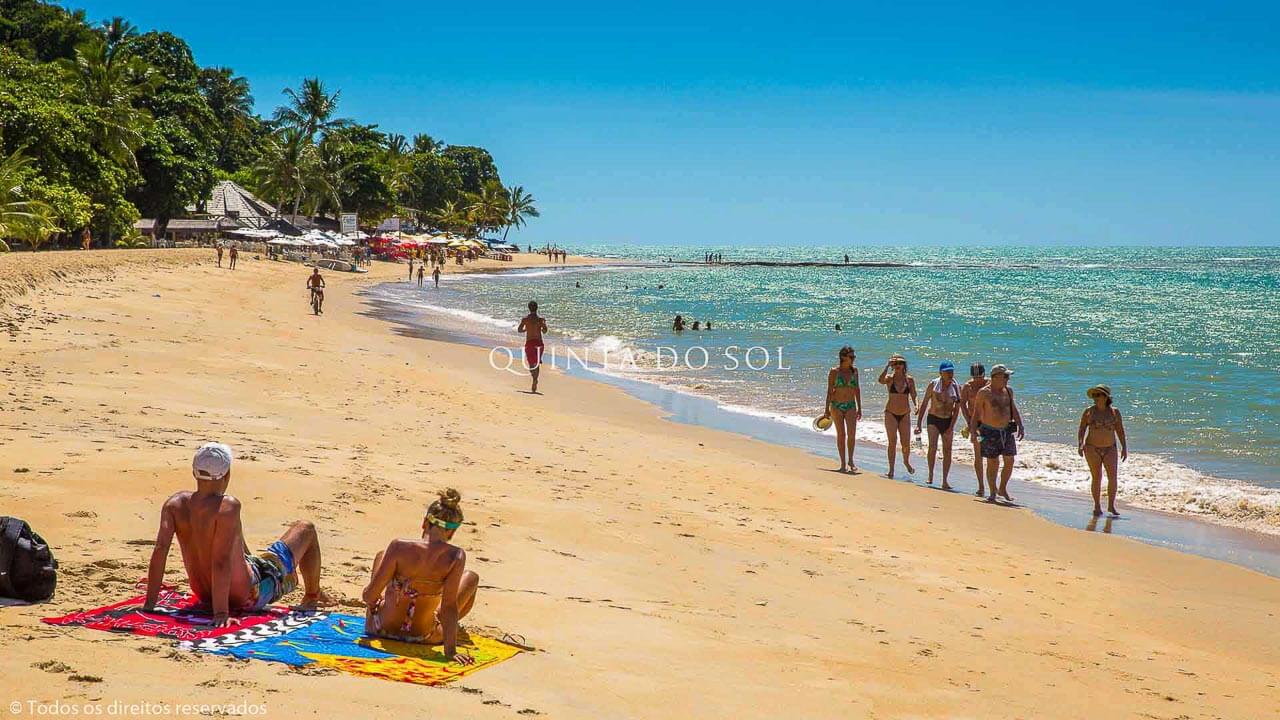 The access to Pitinga is easy. If you're driving a car in Porto Seguro, you can get there with the ferry from Porto to Arraial d'Ajuda.
Then, the ferry crosses the Buranhém river. Each car inside it must pay a 15 reais tax to make the crossing, which takes only 10 minutes.
Save this: prepare to take a lot of pictures when crossing the river!
After the ferry, go straight to the center of Arraial and then take the road to Pitinga. You'll have to pass through Mucupê and Parracho before it.
In case you're walking, all you need to do is walk a little to the left side of the beach and you will find Pitinga.
If you want to read more about Mucugê beach, click here. Besides that, take a look at this post to find tips and information about Parracho beach.
Natural attractions at the beach
Pitinga beach offers a lot of natural attractions.
Coral Reefs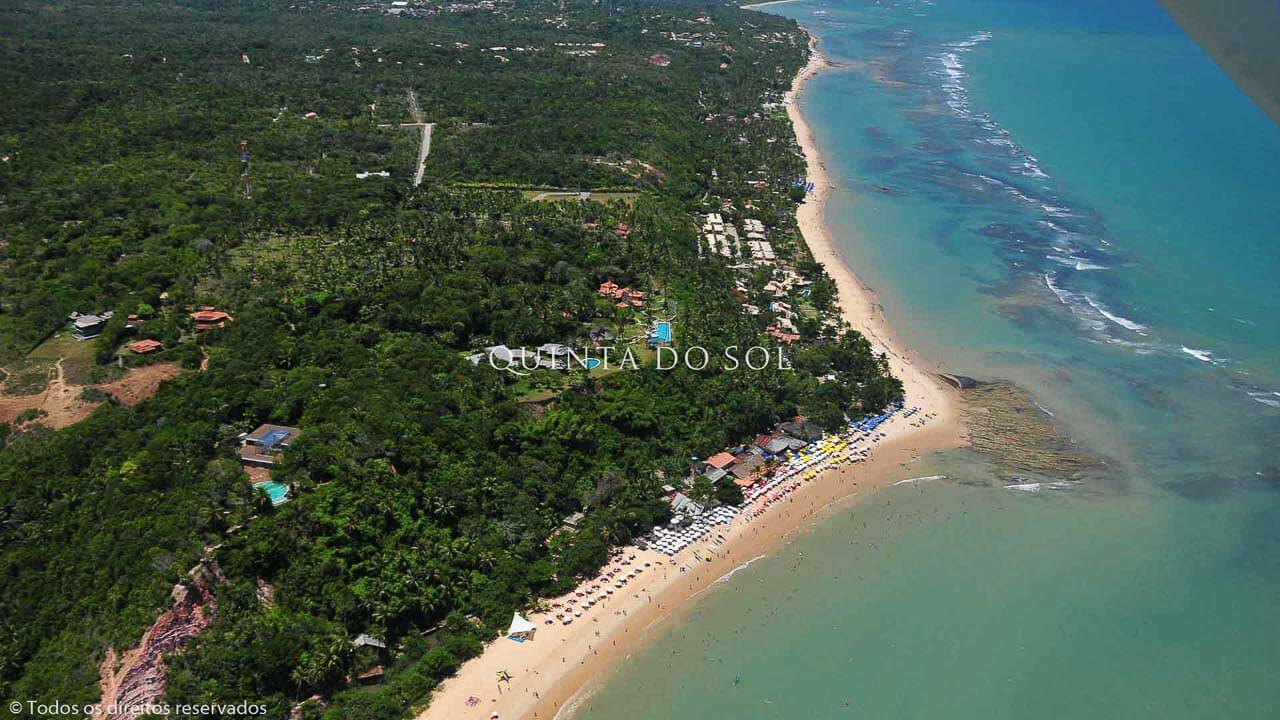 In the first place, the beautiful coral reefs that appear in low tide periods are a spectacle you will like to see. They can only be found in well preserved spaces.
It is totally worth trying to see how these beautiful formations are!
If you want to, it is possible to walk really close to the reefs. However, take care with the rocks. There are a lot of them. Watch below a impressive video with the natural wonders of Pitinga beach.
Feel the atmosphere that is waiting for your here in Arraial d'Ajuda!
Eventually, some jellyfish and sea urchins might appear in low tide. Therefore, pay twice as much attention and avoid hurting yourself with these animals' splinters.
It is interesting that the coral reefs create a protection barrier against the waves that hit the shore.
Natural Pools
Since the barriers we previously mentioned are formed, beautiful natural pools appear between the reefs and the shore as a consequence.
Thus, the environment is propitious to a relaxing sea bath.
Moreover, children will love this calm and safe space.
Beyond the quietness, the pools' waters are warm during summer time.
Reddish Cliffs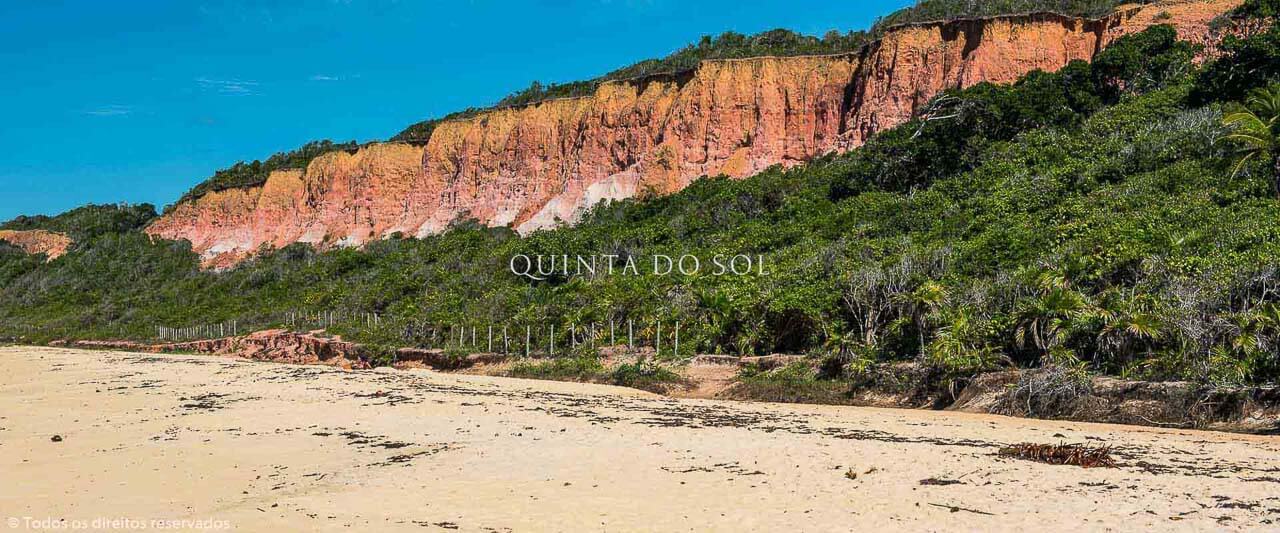 The cliffs are a highlight from Pitinga beach.The formations behind the sea shore are typical from this region of Bahia.
If you're feeling energetic, it is possible to climb them and take a look from up above.
You can take a walk as well, and might get to other beaches without choosing the trail on the sand.
I'm sure you won't regret it!
Sportive attractions at Pitinga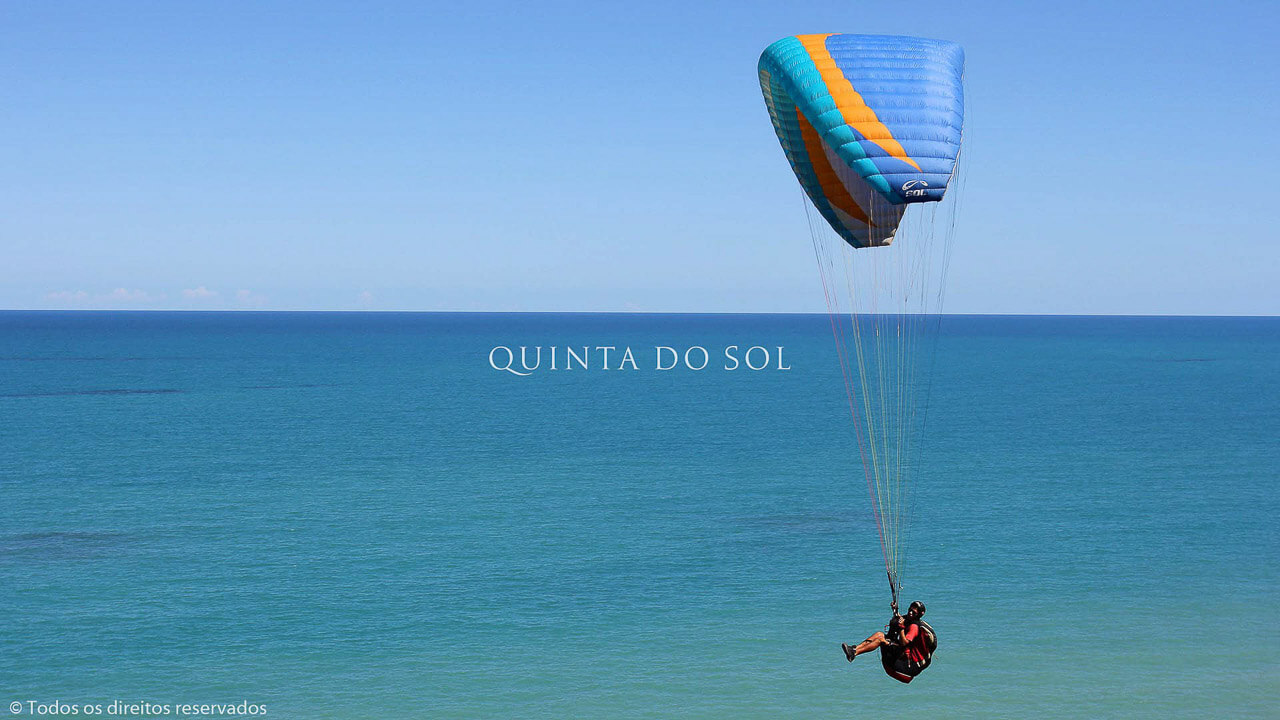 Pitinga is a beach that offers an excellent environment for practicing several types of sports.
For instance, it is possible to rent a kayak and take a ride through the amazing waters of Pitinga beach.
Besides that, there are places where you can rent stand-up and kitesurf boards. The wind at Pitinga are really good for that kind of sport.
If you want to make your travel a little bit adventurous, ask the local surfers for some classes!
Other fresh attraction there is the wind-surfing ride. Taking it will give you a overground landscape that you won't forget!
Therefore, imagine yourself staring at the sea colors, the cliffs and all the natural beauty, but from a different perspective, huh?
Where to eat at Pitinga?
At Pitinga beach there are several tents that sell food to tourists. They usually praise the locust moqueca and also the shrimp pastel.
See how the tents are full of people that enjoy the sun and the sea at Pitinga!
You can also count with vendors that pass by selling some snacks and drinks.
This might be a nice option for staving off the hunger or avoid overeating while having fun at the beach. Nobody would appreciate being sick in the middle of the vacation, right?
Next to Pitinga, you can find food at a lower cost at Mucugê.
Therefore, a strategy for spending less is to enjoy Pitinga at its utmost. By the end of the day, take a bus or a taxi to Mucugê in order to eat properly.
Tranquility, beauty and nature define Pitinga beach
Pitinga beach is one of the tourists' favorites when they come to Arraial d'Ajuda. It possesses a calm environment, a calm sea, and beautiful landscapes. The presence of the cliffs by the right side just make it even more charmy.
It is interesting that Pitinga stands really close to the city Center of Arraial, making easier for you to enjoy the beach and also shopping or eating in an bigger place.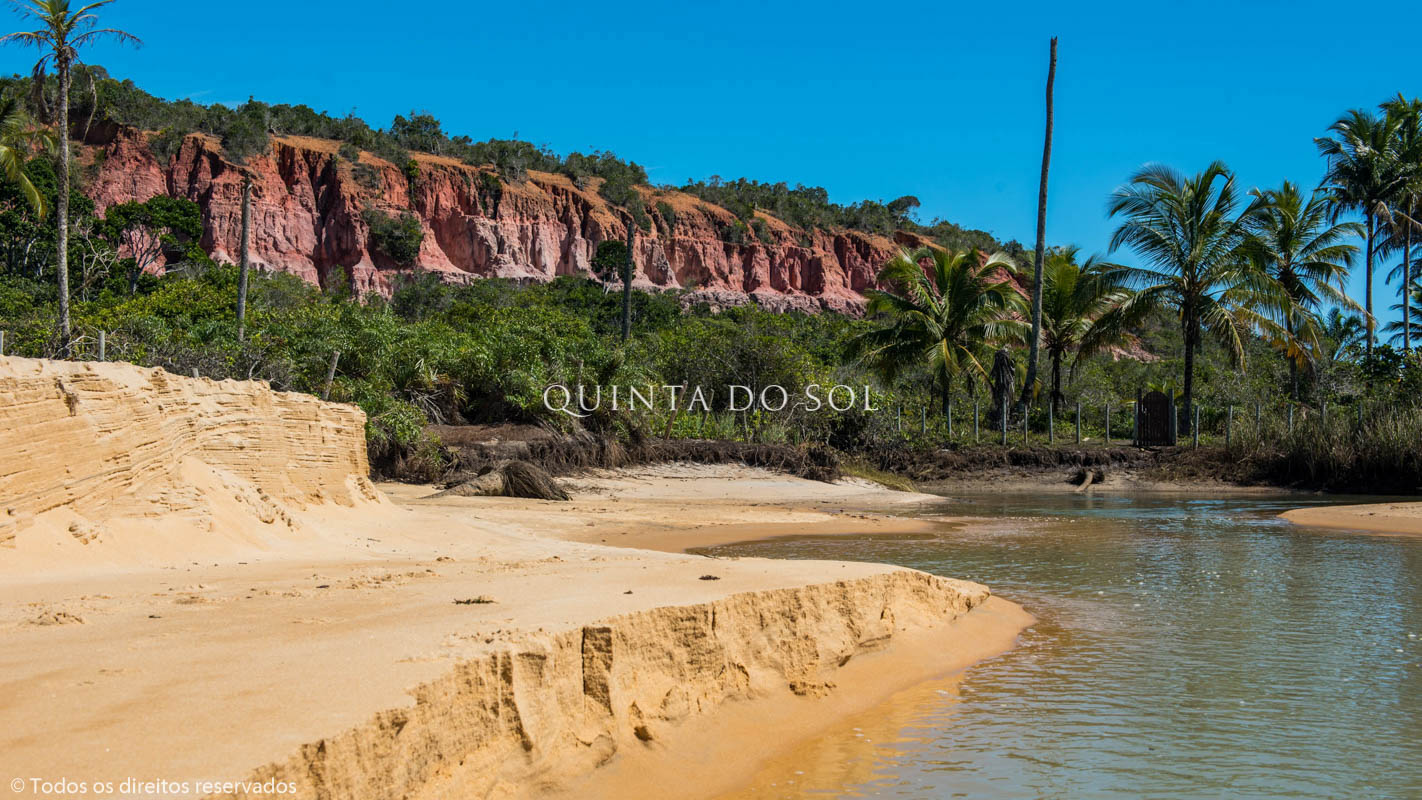 Thus, if you want to spend your holidays in a paradisiac place, with excellent accommodations and services, come to Pitinga. Enjoy the natural attractions and try to practice a different nautical sport.
Are you prepared for travelling?
Come to Porto Seguro and meet Pitinga beach at Arraial d'Ajuda: a nature paradise right next to you! Thus, enjoy yourself to share these tips to your friends and acquaintances at social media! How nice would be if your people set a trip together? It would be epic!