The small city center of any town is known to be the most popular, right? At Arraial d'Ajuda it wouldn't be different. Beyond the desert beaches for those who want to enjoy total quietness, there are some beaches near the city center that offer a vibrant atmosphere to their visitors. Mucugê Beach is one of them!
This is a beach that stands just by the Arraial's city center and it possesses a great traffic of tourists coming from other parts of Brazil and of the world as well. Mucugê is a mandatory stop for those in search of local food and music.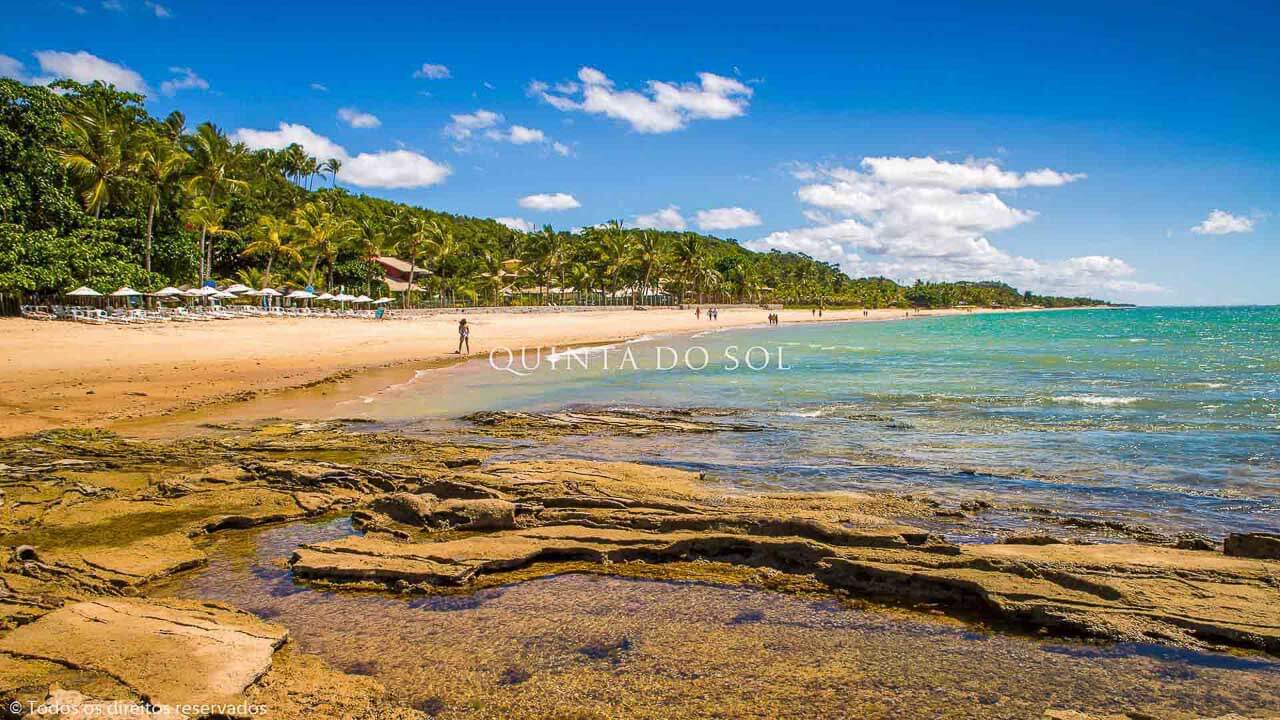 If you're up to meet new people and you also want to be in the middle of Bahia's vibrancy, Mucugê Beach is perfect for you and for your friends as well. Choose where you're going to sit at the shore, enjoy a nice song and seize all the best that Arraial can give you!
Here you will find everything you need to know about Mucugê beach. Don't let one day go by without having a cheerful day with happiness, good food and a beach with a breathtaking view! Do you want to know more about it? Then see the post we prepared!
How do you get at Mucugê beach?
In order to get at Mucugê Beach you must pass through the Arraial d'Ajuda city center. The best way to do it is by taking the ferry from Porto Seguro to Arraial. The ride only take a few minutes and it will cost you about 15 reais for each car you have inside it. It is simple and pretty fast.
It is important to highlight that the ferry is very close to Porto Seguro's airport and there are a lot of transport services that might help you to take the full ride. Therefore, organize the trip and don't lose time when coming to Arraial.
After taking the ferry, head towards the city center – which is 3.5 km from the ferry and takes only 10 minutes to be crossed by car. Then, follow the rua Mucugê (Mucugê street) and you will find the beach which has the street's name. Although the beach stays close to everything, you may take a cab to get around.
If you're by Pitinga, Parracho, or Taípe beaches, you'll find Mucugê just by walking towards the left side of the shore. If you have any trouble, all you have to do is ask for information on how to find Arraial's city center.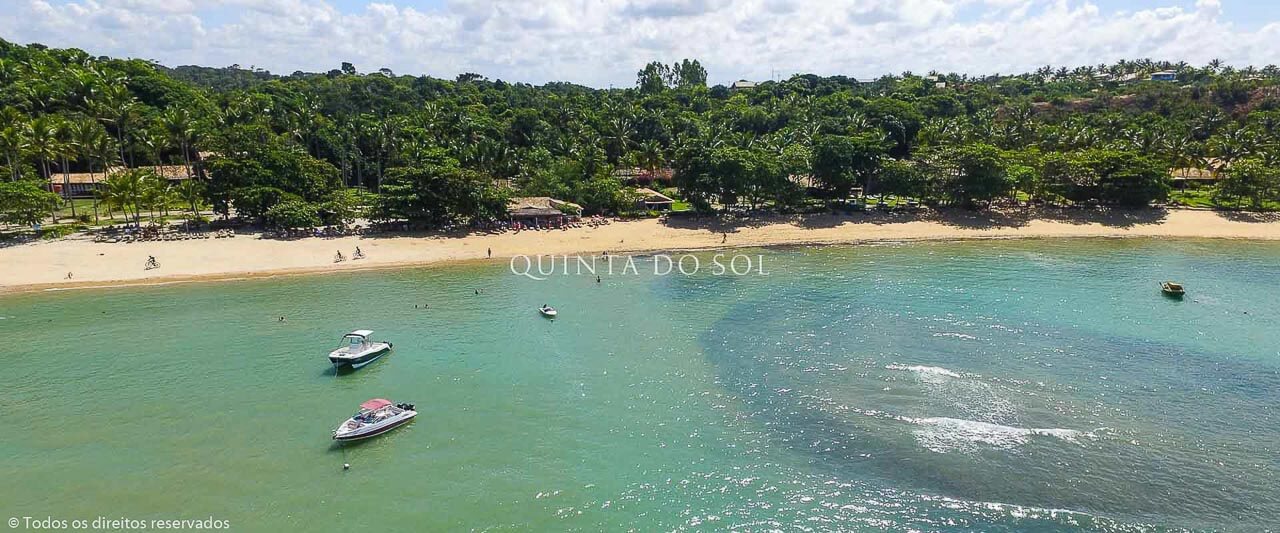 You can read more about Pitinga beach here. If you're interested in trendy parties and other informations about Parracho's beach, click here. Besides that, check tips and curiosities about Taípe beach in this other post.
What are the place key attractions?
Mucugê beach is a great spot for those who want to enjoy the day listening to good music, eating and drinking with friends, or taking that swim in an amazing place.
If you're fond of a good beer and great songs, here is the right place for you! Just allow yourself to feel what is waiting for you at Bahia's coast.
Beach tents at Mucugê beach
In this beach there are a lot of tents which are always full in the most part of the day time. You should verify how must it costs to be at one of them.
Once you're there, order your food, choose your drink, and enjoy Mucugê's beauties. Check the video!
Being there is a synonym for happiness and a great mood, isn't it? Be sure you are going to have a lot of fun.
Just like the other beaches in the region, Mucugê beach has beautiful coral reefs.
Natural pools
At low tide, natural pools are formed between the coral reefs and the sand.
In order to have some fun, take your air cushions and relax in the warm waters of Mucugê natural pools.
Remember to be careful. You might get closer to the reefs, but there are dangerous rocks that can hurt you. Behold.
In case you like practice rowing, there are some places where you may rent a kayak or a stand-up board to have fun in the sea.
The calm waters of the region make these sports a perfect option, given the safety and the visibility. Enjoy yourself!
It is important to mention that at the left of the beach there is an aquatic park. Thus, if you or your kids are searching for entertainment, have fun in the waterslides and other attractions.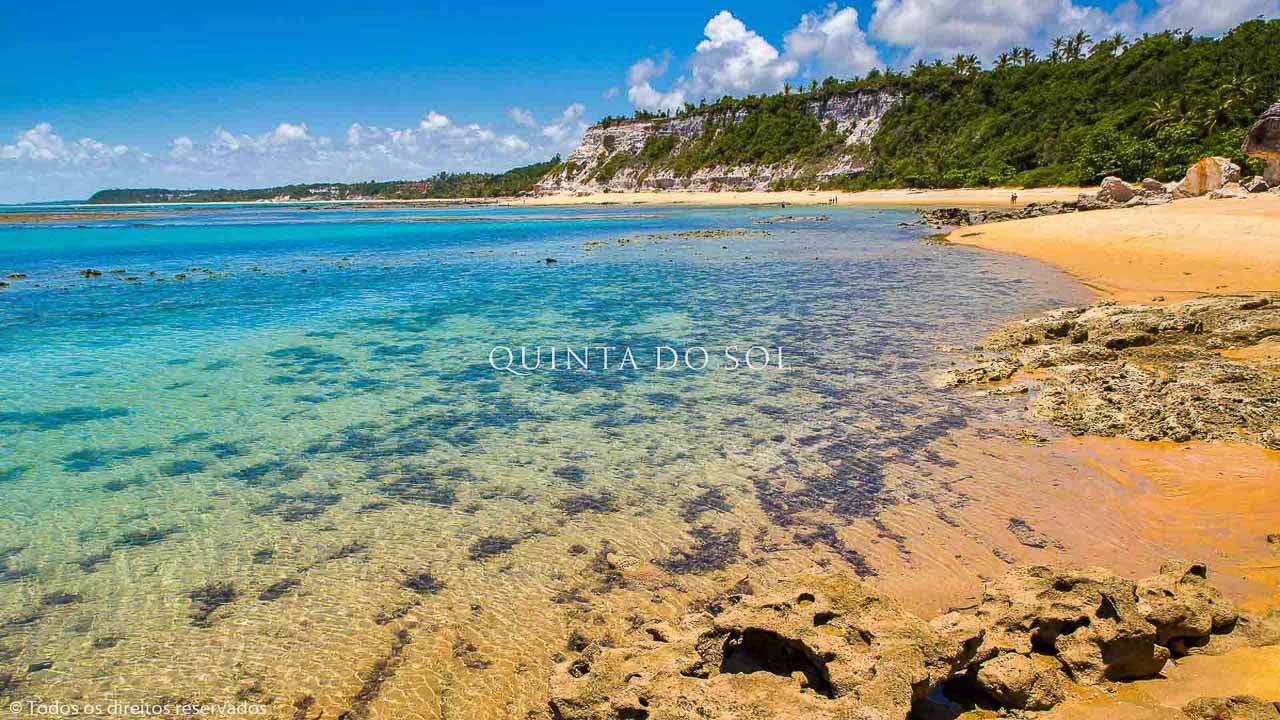 Since Mucugê beach is close to Arraial d'Ajuda center, it would be nice if you come to know the restaurants and stores around. It is possible to take your family to appreciate local food and also buying nice souvenirs.
Where to eat at Mucugê beach?
When it comes to food, Mucugê beach offers several good places to eat. The best thing to do before that would be taking some beach chairs and ask for food and beverage directly from the sand of one of Bahia's prettiest beaches.
The tent's meni possess a great variety of products. You could buy a risotto with seafood or even a delicious lobster. It is common to find an artist performing good songs to make your day at the beach even better.
It is also possible to choose a restaurant at Arraial's city center to gather the family outside the shore. By the end of the day or by the evening, it is also possible to find cozy places to relax when you're not all soak in sand.
There are problematic people at the beach…
As we previously mentioned, Mucugê beach is usually full of tourists. Since it stands by the city center, it is understandable that every one passing by wants to check the beach.
Therefore, you should expect to find crowded places. At the beach, there will be many people here and there and by the the sea things will remain the same. Children, young people and adults will be there enjoying the water with intensity.
This is why it is so important that you keep both eyes open when it comes to children, so they will be safe. It is not that the place is unsafe, but the amount of people gathered might be threatening to the little ones.
Besides that, it is common to find some garbage given the popularity of the place.
Although there are a lot of trash cans around the beach, some tourists insist in discarding their garbage anywhere.
Being aware of that, if you come to the shore, be a good citizen and please do throw away your trash in the proper place. Okay?
Come and discover a paradise called Mucugê
We already said that Mucugê beach is the nearest to the the city center of Arraial. Therefore, the flow of people is something to consider given the excellent localization and the proximity to beaches that don't offer that quantity of resources.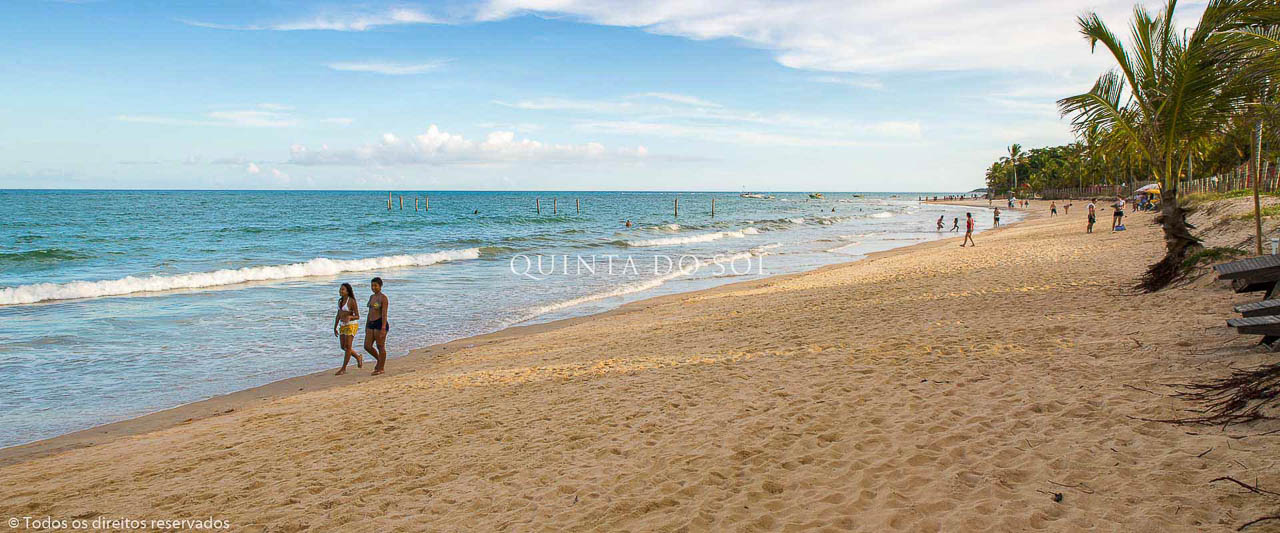 The price of services and products at Mucugê beach is not incongruous. Thus, if you're interested in having fun, fooling around with your friends and listening to good music, choose the beach tent that will satisfy your needs better and enjoy your time at the beach!
Do not forget to check the little streets of the city center. You will surely find a nice souvenir to remember of an amazing trip. What do you think? Would you like to know Bahia's coast? Then come to Mucugê and be captivated by the joyful spirit of Bahia!
How did you like everything until now? So what are you waiting for to make your reservation at the Hotel Quinta do Sol? By the way, share the news in social media! Mucugê awaits for you!