If you are planning to visit Arraial d'Ajuda on your next vacation, do not miss Araçaípe beach. This beach offers a quiet climate, plenty of food options and incredible scenery. Plus, it's very easy to get to!
Enjoy to admire the coral reefs and enjoy the natural pools that form daily. Relax your mind and body while watching the sunset on a paradisiacal beach!
It is no wonder that the beach of Araçaípe is one of the best beaches beaches of Arraial d'Ajuda.
If you are looking for tranquility, beautiful scenery and high quality lodging services, check out the Araçaípe beach tips and make the most of your vacation in Arraial d'Ajuda!
Check out many tips and information on this fantastic beach!
How to get to Praia de Araçaípe?
Araçaípe Beach in Arraial d'Ajuda, a district of Porto Seguro.
If you are at the airport or staying at a hotel in Porto Seguro, such as Quinta do Sol, the most recommended way to get to this beach is by means of the ferry.
The ferry connects Porto to Arraial, crossing the Buranhém River.
The ferry crossing lasts a few minutes and costs about 15 reais for cars and 5 reais if you are on foot.
After the commute, just follow direction the center of Arraial d'Ajuda that in a few minutes will reach the beach of Araçaípe. The distance between the ferry and the beach is only 2 Km.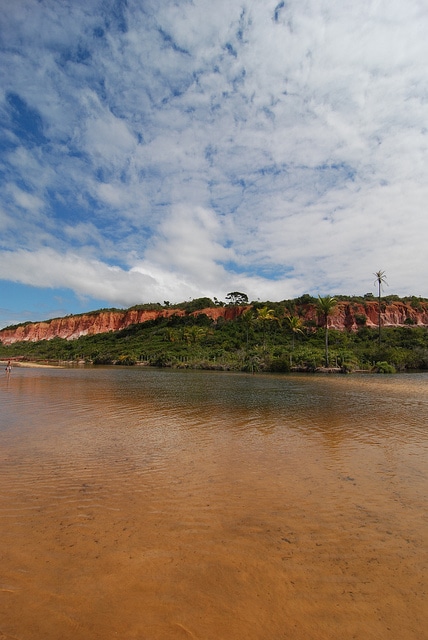 On the other hand, if you are in Praia do Mucugê or Pitinga, you only have to walk a little to the left side of the beach that soon you will reach Araçaípe Beach in Bahia.
It is just after the water park, about 10-20 minutes walk along the sand. Take a walk and enjoy the beautiful scenery of the beaches and discover what in Arraial d Ajuda!
How is the beach?
Between the beaches of Porto Seguro, Araçaípe is very beautiful and very quiet. It is one of the best beaches of Arraial d'Ajuda for those who want to enjoy the quiet with a good infrastructure available and with great price. Take a look at what awaits you here in this video!
The beach has a very calm climate. On the one hand, an immense paradisiacal sea. In some stretches there are coral reefs that appear when the tide is lower. It is a charm to admire these formations of nature.
In addition, some natural pools even form between the sand and the reefs. In this way, bathing at sea makes it safer and more suitable for children.
The water is very shallow and with a very pleasant temperature. You can chat and enjoy with other people while your children play at ease in the quiet pools on the beach.
But, keep an eye on the presence of living waters. When the tide is very low, it is possible that some of these animals are very close to the sand. Keep your distance and avoid getting burned by the tentacles of the living waters.
The Araçaípe beach also offers plenty of shade as there are many trees in the sand. In addition, places to eat are not lacking. Want to know this information? Follow the following!
Where to eat on the beach of Araçaípe?
On Araçaípe beach, there are some very comfortable stalls for those who want to eat or refresh themselves with a drink.
So you can rest easy with food, as there are snacks, meals, drinks, juices and other options waiting for you!
Contrary to what happens in Apaga Fogo Beach, the restaurants on the beach of Araçaípe are open to the general public. To read more about the Praia do Apaga Fogo, click here.
Therefore, in Araçaípe beach you do not have to worry about bringing food. You can rest assured that the stalls will provide food for the whole family.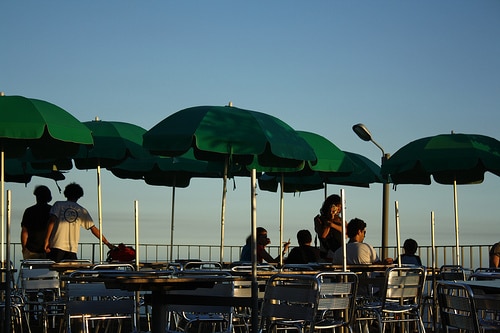 Still, some street vendors move around the beach offering drinks and food.
Tourists do not find the value of tents expensive, which is a very positive spot. And we know that food is one of the things that can make a trip more expensive, right?
That way, in Araçaípe beach you can enjoy your holidays in a wonderful place without spending much to eat and drink.
So if you enjoy eating a delicious shrimp or seafood while enjoying a beautiful sunny day by the sea, Araçaípe beach is ideal for you.
Plan your trip to discover what to do in Porto Seguro and to enjoy this paradise! Take a look at this video to be dazzled even more!
What are the attractions of Araçaípe beach?
The highlight of the natural landscape is the reefs and natural pools.
In addition, the colors of the sea water in contrast to the sky are worthy of film. Actually the beach of Araçaípe is a preserved paradise in Arraial D'Ajuda.
It is possible to rent a kayak for a stroll in the sea. This is a very interesting attraction for people who enjoy physical activity, as they can paddle in calm waters and enjoy a beautiful day of sunshine along the coast of Bahia.
Check it out!
The beach of Araçaípe is also very popular for windsurfing. This sport uses the wind to move under a surfboard in the sea.
If you are interested, rent a windsurfing board and take a class with a local surfer.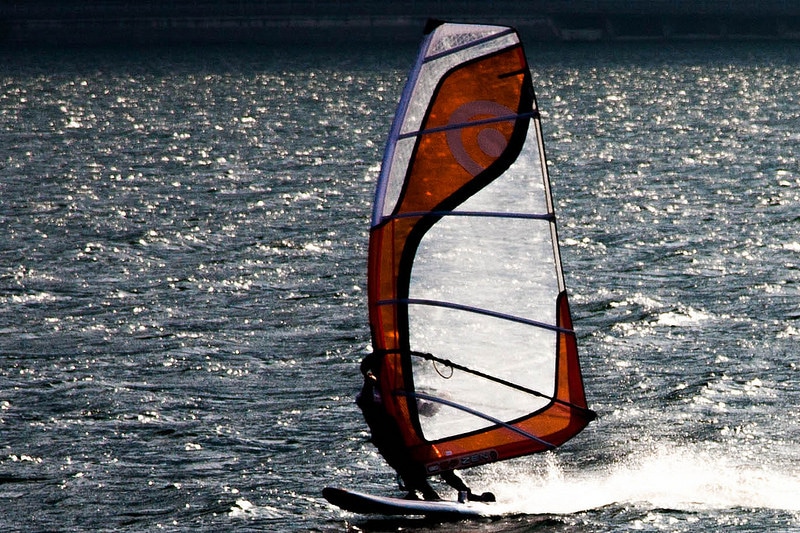 If you want a different tour, spend a day at the water park located on the right corner of the beach. This park has water slides and other attractions that cater to the whole family.
Worth it! The place is safe, and has leisure option for the youngest and adults.
Paradise called Aracaípe
The beach of Araçaípe is a paradise! It has a peaceful climate and an incredible landscape.
If you are looking for a safe place with a good price, Araçaípe beach is an excellent choice.
The beauty of this region is that there are many other beaches to visit during the day. It is worth staying here and doing a knock-down to get to know other places.
Regardless of the case, do not miss the beach of Araçaípe. You will not regret! Did you like the information?
So, share this text on social networks and come check out what awaits you here in Bahia!