Are you looking for a paradisiac place to go next vacation? Rio da Barra beach is located at extreme south of Arraial d'Ajuda.
This is a really quiet place, with fantastic landscapes and a lot of attractions. If its with friends or family, this is an excellent Bahia's coast option. Want to know a little bit more about this paradise? Check it out!

FIND OUT RIO DA BARRA BEACH IN TRANCOSO
Besides having untouchable cliffs, the tide oscillation and the presence of a river that cuts the beach make this region a perfect place for your vacation.
Talking about accommodation, Rio da Barra beach has only one hotel. Therefore, is nice to program it in case you want to stay there and enjoy everything around it.
In case you want to practice sports, there are surfboards, kite surf and kayak options for rent. Quad Bikes are also available so that the tourist can get around easily by the Rio da Barra beach and region.
See in this incredible video what waits for you.
Therefore, if you want to enjoy days of very tranquility and high quality services, come to Rio da Barra beach in Arraial d'Ajuda.
Bring your family and friends and have the experience of knowing an untouched place of nature.
HOW TO GET TO RIO DA BARRA BEACH?
As the Rio da Barra beach is very close to Trancoso, the best option to make it there is through the Old Trancoso's Road. This route is fast, having only 9km of extension.
Arriving at the location, you can leave your vehicle in a parking lot; However, the price is R$ 30,00 per parking space.
For those who enjoy walking, you can leave the Nativos beach, located in Trancoso.
Just go to the left of the beach and you will soon reach the Rio da Barra beach. This is a great choice to relax and admire the beautiful landscapes of the southern coast of Bahia.
As there are places for quad biking in Trancoso, a great alternative is to drive with this motorized vehicle to the Rio da Barra beach.
Besides being a fast way of transportation, it is a different program to do with friends while you enjoy your day in this and the other beaches of Trancoso.
RIO DA BARRA BEACH ATRACTIVES
The Rio da Barra beach is a really conserved place in Bahia, With its beach and practically untouched cliffs, this regions counts on a very well preserved native vegetation. Wait, there's more, the Rio da Barra beach is a spectacle apart!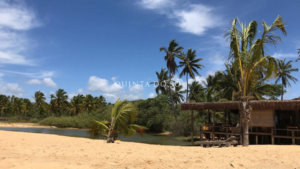 1 – BARRA'S RIVER
The Barra's River in Trancoso has very warm and calm water, which is ideal for a great relaxing time. Check out in this video! When the tide fills up, it is possible to swim from the river to the sea.
2 – AQUATIC TRAIL
You can rent a kayak and take a different tour through the Barra's River.
Still, the small lakes that form near the river are a natural attraction. Enjoy!
3 – CLIFFS
As it's said, the cliffs are a scenery apart because they are tall and very colorful.
These rocky structures can reach up yo 50 meters in height and feature colors ranging from white, red, orange and darker colors.
Therefore, the cliffs are real portal cards of the south of Bahia.
4 – COAST OF DISCOVERY
In addition, you can climb the cliffs and observe the entire Coast of Discovery, name that this region of Bahia receives.
Do not forget to take a cell or camera, because the view from up there is just fantastic!
5 – WATER SPORTS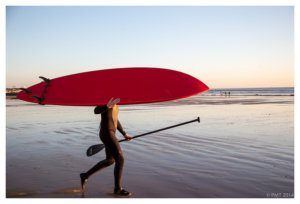 For those who like adventure, there are options for renting equipment for water sports.
In addition to kayaks, as previously commented, there are stand up and kite surf boards for you to relax and explore the beautiful Rio da Barra beach.
6 – QUAD BIKE TOURS
If you arrive by quad bike to the Rio da Barra beach, take the opportunity to stroll along its length and get to know the details of this paradisiacal place.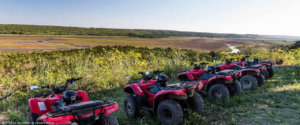 Did you see how many attractions and trips to enjoy here? So come on!
RIO DA BARRA BEACH: PERFECT DESTINATION AND FANTASTIC TO RELAX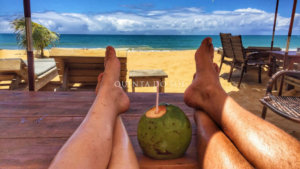 Rio da Barra beach is a perfect destination for those looking for days of great tranquillity and fantastic visuals.
As this beach is away from the trade centers of Arraial d'Ajuda and Trancoso, the natural environment is very preserved. It is the opposite os beaches such as Pitinga beach and Mucugê beach.
In addition, the present river on the beach gives a special detail to the landscape.
Be sure to stroll next to the cliffs and get to know the very peculiar characteristics to some Bahian beaches.
Despite the good restaurant offer on Rio da Barra beach in Trancoso and infrastructure, it's good to stay tuned. Price of minimum consummation and higher values in meals.
Therefore, some people may prefer to schedule to stay longer by the sea. So organize yourself and be sure to get to know this south paradise of Arraial.
So, are ou ready to enjoy the best that Arraial d'Ajuda has to offer? Get to know Rio da Barra beach and live days of maximum tranquillity in the midst of nature.
Well, enjoy your vacation in a wonderful environment, safe and with the climate that only Bahia has!
Before doing so, share these tips with your friends and acquaintances on social networks. Have you ever wondered if anyone else gets excited and you guys go on a trip together? So let's go!